Early Childhood Care & Development
HBT's Early Childhood Care & Development (ECCD ) interventions focus on promoting all round development of children in terms of physical, social, emotional, creative, language and cognitive development through a quality play based, developmentally appropriate set of programs. It also ensures achieving inclusive and quality education for all reaffirming the belief that quality education is one of the most powerful and proven vehicles for sustainable development (SDG-4).
Humara Bachpan Early Childhood Care & Development (ECCD) intervention strategy is focused on Articles 3, 6 and 18 of the United Nations' Convention on the Rights of the Child (UNCRC) and designed to
Enhance the quality, accessibility and equitable distribution of services for children during the early childhood
To promote play based, experimental and child friendly provisions for early education and allround development of young children
Recognize the parents and family members as the primary caregivers and healthcare providers and empower and support them to ensure their roles for early childhood brain development
To involve communities and eliciting community participation in the monitoring process of early childhood services

Promoting ECCD in the Anganwadi Centres
HBT works to provide enabling environment in the Anganwadi centres (AWC) so that learning at this early stage must be directed by the child's interests and developmental priorities, and should be relevant to their family and social context and should not be academic and formal in content and method. The 'Building as Learning Aid' (BaLA) framework is followed to develop model AWC transforming the AWC as a child-friendly resource centre for learning and development. HBT developed 33 child friendly model AWCs in Puri and Bhubaneswar to create an enabling environment for children's holistic development.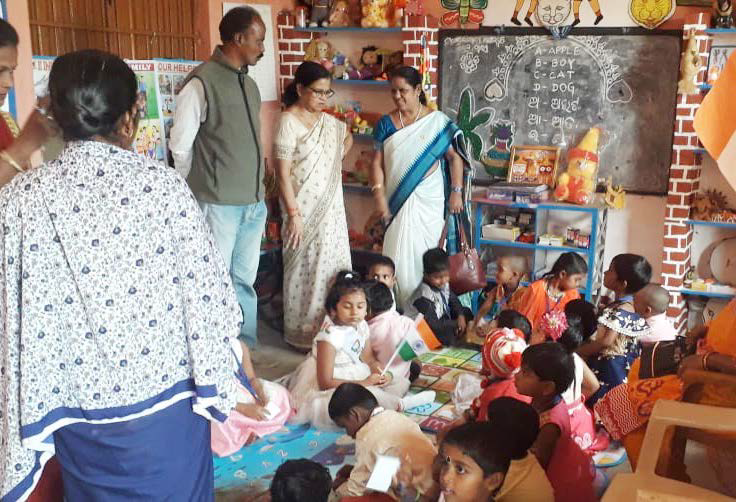 Development through Play (Right to Play)
Children's outdoor play is being increasingly recognized as essential for their healthy development. Recognizing the importance of play in children's lives and their development, Humara Bachpan Trust's 'Ama Khela, Ama Bikash'(Right to Play) initiative works towards developing play spaces in Anganwadi centres and neighborhood and organizes community sports programmes.
HBT has set up 23 'Play and Learning Centres' named as 'Ama Adda' in urban and rural communities of Puri and Khorda to provide play based learning opportunities to children.