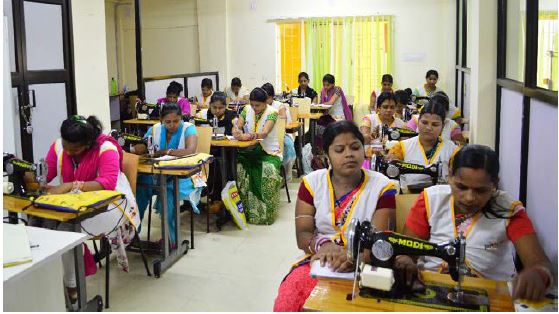 To enhance the individual's employability (wage/self-employment) through skills and knowledge especially for youth, women and disadvantaged groups, HBT has launched its skill development program. Humara Bachpan Trust has partnered with National Skill Development Corporation (NSDC) to implement the skill building project named 'Sambhavi – Women Empowerment with enterprise and employability'. It aims at developing entrepreneurship skill among poor women and girls from urban slums by providing skill building training under different trades and giving assured employability and strong post-training support to ensure their improved socio-economic status.
The project components have the potential to impact 1500 marginalised female youth from slums of Bhubaneswar through placement-linked and entrepreneurial skill development training, hence is acknowledged under special project category of Pradhan Mantri Kaushal Vikash Yojana (PMKVY).
A three-phase learning methodology is adopted to train the women candidates in four different job roles under Apparel, Healthcare and Beauty & Wellness sectors.
Phase I: Traditional Learning method to build the foundation about the job role with specific knowledge and attitude required for..
Phase II: Applied Learning method giving emphasis on practice with industry specific machines and production environment.
Phase III: Action Learning method of practical learning on dimensions of accuracy, process and time taken.
The project was launched on the very occasion of international women's day, 2018 in the presence of 5000 SAMBHAVI women leaders from urban slums of Bhubaneswar. A total of 75 women candidates enrolled for training in different job roles during the financial year. Rural Enterprise & Development was initiated in February 2018 to work with women farmers in rural areas. HBT started work in one block in Puri district of Odisha by mobilising women farmers and imparting them training on mushroom cultivation.